What GetUp members are up to this week
Posted by

Kelsey
2nd November 2012
Over the last few weeks, GetUp members from around the country turned out at Woolworths stores to ask them to reform their poker machines. Smiling for the camera, here is a great photo of Victorian GetUp member, Brett, in action.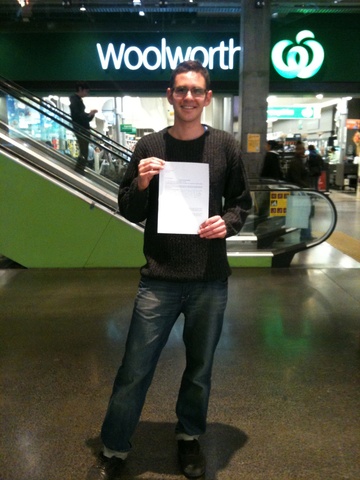 And Brett is not alone. Across the country thousands of GetUp members are forcing Woolworths to take notice. Walking into their local Woolworths store with a letter in-hand, ready to present to the manager, members are speaking out against the supermarket giant's ownership of dangerous high-loss poker machines.
Each personalised letter is invaluable in gaining the company's attention. It is members like Robin, Louise, Susan, Barbara, and all of you who are changing the game for people addicted to poker machines in Australia.
"I'm doing this because I care about my fellow Australians"

Julie from Drysdale, Victoria, wrote in her letter to the giant.
The people affected by these machines are not just statistics. Many brave Australians have shared their personal encounters with the devastation caused by pokies and bravely confronted Woolworths with their experiences.
William, writing in his letter, wrote:
"My brother became a gambling addict using poker machines. This led to him stealing from his wife, his sons, his employers and his parents to feed his addiction. It resulted in the breakup of his marriage, his estrangement from his parents and brothers including me and contributed to his early death from illness that may have been related to his gambling problem".
Together we are forcing Woolworths to take notice. Thank you to all our members for taking a stand!