Campaign update on the Great Barrier Reef
Posted by

Kelsey
14th November 2012
We just got back from filming this video in Northern Queensland, and we can't believe what we saw. The damage being done to the Great Barrier Reef World World Heritage Area will shock the country. Check it out here: https://www.getup.org.au/campaigns/mining/gladstone/watch-this-video-now
The Great Barrier Reef is already under great pressure from climate change. But to make things worse, the Australian Government is giving Gina Rinehart and others the green light to build the world's biggest coal export facility at Abbot Point, right on the edge of the Reef.
Near Gladstone they're literally cutting channels through the seafloor for huge coal ships in a practice known as dredging. It releases toxins trapped in sediment which then find their way into our food chain. Locally, the effects are clear: fishers are bringing in catch that are so sick it's not safe to sell. Globally, we are losing one of the natural wonders of the world, and doing it so we can export more coal to warm the planet. It's absolutely crazy!
There's something we can do about it. Environment Minister Tony Burke keeps saying publicly that he wants to save the Reef. He's trying to walk both sides of the street – saying he'll save the Reef but at the same time approving massive new coal and coal seam gas terminals – and so far he's getting away with it, because only locals know what's really going on. Together, we're going to change that, and show both major parties that voters will know what they doing to the reef:
In our new ad, new footage and scientific interviews show Australia what's really going on. Please watch and join the campaign now.
https://www.getup.org.au/campaigns/mining/gladstone/watch-this-video-now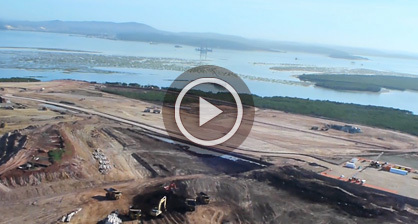 Here's the plan: there's an election not far away. Queensland is full of important marginal electorates. The Great Barrier Reef employs 10 per cent of the population of Gladstone and adds $5 billion to the State's tourism economy annually – we're talking major economic ramifications, not just conservation – and politicians know it.
That's why we're kicking this campaign off by blanketing cinemas across Queensland. If we raise enough we'll screen it in Tony Burke's electorate too. Are you able to help this thing go big?
https://www.getup.org.au/campaigns/mining/gladstone/watch-this-video-now
Our Environment Minister Tony Burke and his government really don't want destroying the Reef to become their legacy. Neither do we.
Thanks for standing up for the Reef,
the GetUp team.