Member stories: why Kylee asked Woolworths for pokies reform
Posted by

Kelsey
19th November 2012
Below is a story from a GetUp member, Kylee, who joined hundreds of others in turning out to her local Woolworths on Saturday. She asked them to clean up their act with dangerous poker machines – and with great reason. Read her story & join the campaign here: http://www.getup.org.au/campaigns/pokies-reform/1-120-solution/tell-woolworths-stop-gambling-with-lives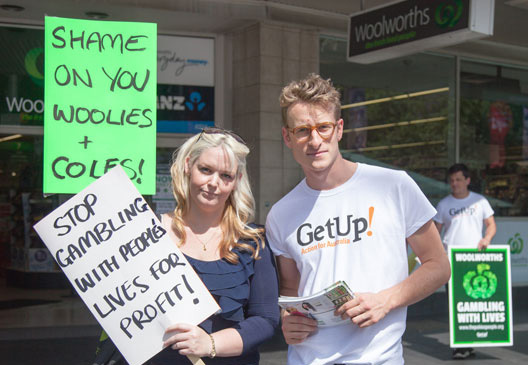 Kylee with GetUp's National Director, Sam Mclean.
After handing out leaflets to customers and passers-by, we delivered a petition to the area manager at Woolworths Sydney. We told the manager about the facts of the campaign, and then Marc (a fellow GetUp member who joined the action) and I told him our personal stories about pokies.
A policewoman accompanied us. She cried as we spoke. The store manager was really moved as well and said he'd do what he could.
I told him about how my father passed away last year. He struggled for years with addiction to poker machines. Dad sold our family home (that he worked decades of overtime to buy) in order to clear his debts and start again. He was determined to beat the addiction, but he couldn't. Within months nearly $200,000 went into those same machines. Dad was consumed with self hatred; he felt weak, out of control, a failure. He continued to gamble and despite earning an income above $100,000, was dependent on me to buy him food until cancer made him too sick to play the machines. It's a sad indictment of the pokies that my Dad, in immense pain and confronting his own mortality, was mostly happier in those last 12 months than in the 15 years before combined because he stopped playing the machines and allowed himself to be loved again.
I met Marc, a fellow GetUp member, at Saturday's action and found out we shared past that was marred by pain inflicted by poker machine addiction. He is an only child, and his single mum was addicted too. He told me about his childhood memories of hunger and isolation, for it meant that Marc was left to fend for himself at a young age, coming home from school to an empty home and an empty cupboard, his mother unable to extract herself from the machines. Night after night, he would await the tell-tale sound of her footsteps after midnight, in the hope of a proper meal. Unable to admit her addiction, she explained to him that this is what he deserved.
As Marc's story illustrates, the victims we often don't hear about are those indirectly affected by pokies. For every addicted gambler, there are many more lives impacted: friends, employers, partners, parents and in particular, the most vulnerable of all – the children of addicted gamblers. For me, meeting people like Marc, sharing our stories and taking action together is cathartic, hopeful, and so powerful. Thanks to everyone who is part of the campaign for safer poker machines.