Update on the campaign for Federal Environmental Protections
Posted by

Kelsey
6th December 2012
Great news! You, along with thousands of other GetUp members, chipped in to run an ad to pressure the Federal politicians attending The Council of Australian Governments (COAG) tomorrow to hand over protection of our environment to the States.
Your ad (below) will be running in The Australian tomorrow, the day COAG meets – make sure to grab a copy!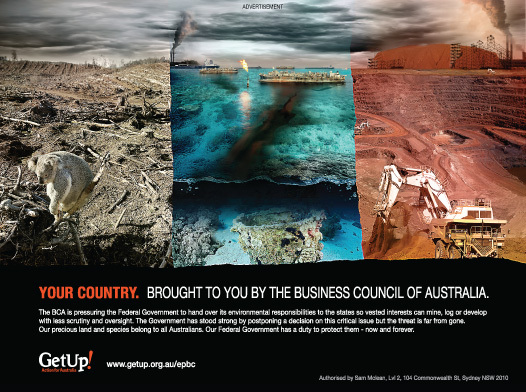 Just now, reports in the Sydney Morning Herald indicate that the Federal Government is putting the decision on hold.1
It's a prudent move, and means our environment has a temporary respite from the Business Council's plan to weaken environmental protection legislation… but we're definitely not in the clear yet.
As you read this, the Business Council of Australia (BCA) is sitting in a meeting with the Prime Mininster and Premiers in Canberra. It is doing all it can to pressure the Federal Government to back down. On radio this morning it hinted at further public campaigning until it gets what it wants.
COAG meets tomorrow and won't announce the final outcome until after its meeting, so your timely ad is more important than ever.
Australia's Federal environmental powers have demonstrated their value time and time again. They've been used to stop drilling for oil on the Great Barrier Reef, damming of the Franklin River in Tasmania and brought about the protection of some of our most precious places and wildlife. These threats will only continue to grow – from mining in the Tarkine to coal seam gas fracking and coal ports on the Great Barrier Reef. That's why we're fighting hard to keep Federal protections in place. Thanks for helping to make it happen!
Finally, we want to send a resounding congratulations to all the people and environment groups who have been campaigning hard on this issue and have helped secure this important step. If you'd like to learn more about their campaign, visit the "Places You Love" campaign here: http://placesyoulove.org/
Love your work,
the GetUp team.
[1] Sydney Morning Herald, "Bid to cut green tape bogs down in detail," 6, December 2012.