Posted by

Jess
Across the country, our allies in the campaign are holding media-grabbing events tomorrow. If you are in Brisbane, Melbourne, Canberra, Sydney, Yeppoon or Mackay, click here to join in: http://www.getup.org.au/rally-for-the-reef
At the same time, we will be delivering the petition 127,015 Getup members have signed, to Federal Environment Minister Tony Burke in Sydney. The petition is a massive effort and sends a message loud and clear: Australian people expect more from the Government when it comes to protecting our World Heritage listed Reef.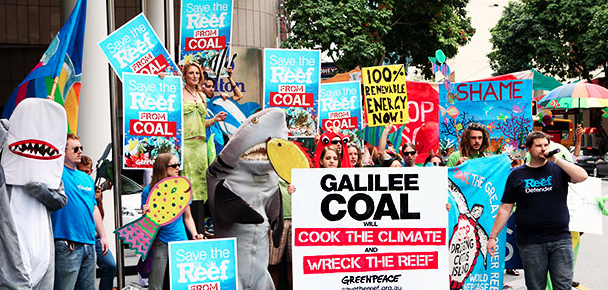 Unfortunately, the Reef will be in the news tomorrow for all the wrong reasons. Tomorrow the Government has to hand in its homework to UNESCO and it's looking like an "F" on the Great Barrier Reef.
We wanted to give you a heads-up on the news — all reasons why we must keep fighting in this campaign. It's already evident that the government have failed to address the "extreme concerns" raised by UNESCO and the IUCN last year. Since then, things have gone from bad to worse for the Great Barrier Reef. Here's why:
The most urgent recommendation still hasn't been acted on. UNESCO and the World Heritage Committee asked the Federal Government to conduct an independent review into the damage being done to the World Heritage site in Gladstone Harbour and into the dredging, coal ports and CSG plants planned for Curtis Island. Not only has the review not been completed, it is only just getting started.
The Queensland Government has been allowed to damage an national icon. It has weakened coastal protections, neglected to enforce pollution control regulations and is backing more coal ports and more dredging along the Reef.
The Great Barrier Reef marine park is now being used as a dumping ground by the mining industry. Last year the mining industry made use of new regulations which allowed it to dump over 2.5 million tonnes of dredge spoil into protected marine parks.
Miners have continued to massively expand coal production and new ports. Queensland Premier Campbell Newman is already indicating his government will approve this move despite the fact the strategic assessment for the Reef has not been completed and fierce opposition from UNESCO and the local community.
Despite this bad news, we can't give up hope, and we can't give up campaigning. Our negotiations with the Government have already helped secure the independent scientific review, and we have more opportunities for impact in the coming months, which we'll keep in touch about. We'll keep defending our unparrelled environmental treasure home to dugongs, dolphins and the most amazing coral anywhere on earth, a job creator for over 60,000 people, a source of recreation and fishing for hundreds of thousands, and a key part of the Australia's global brand.
Thanks for being part of this,
The GetUp team.
PS – UNESCO has an active Twitter account. Click here to let them know on Twitter that the situation has become much, much worse for the Great Barrier Reef.
31st January 2013