Posted by

Jess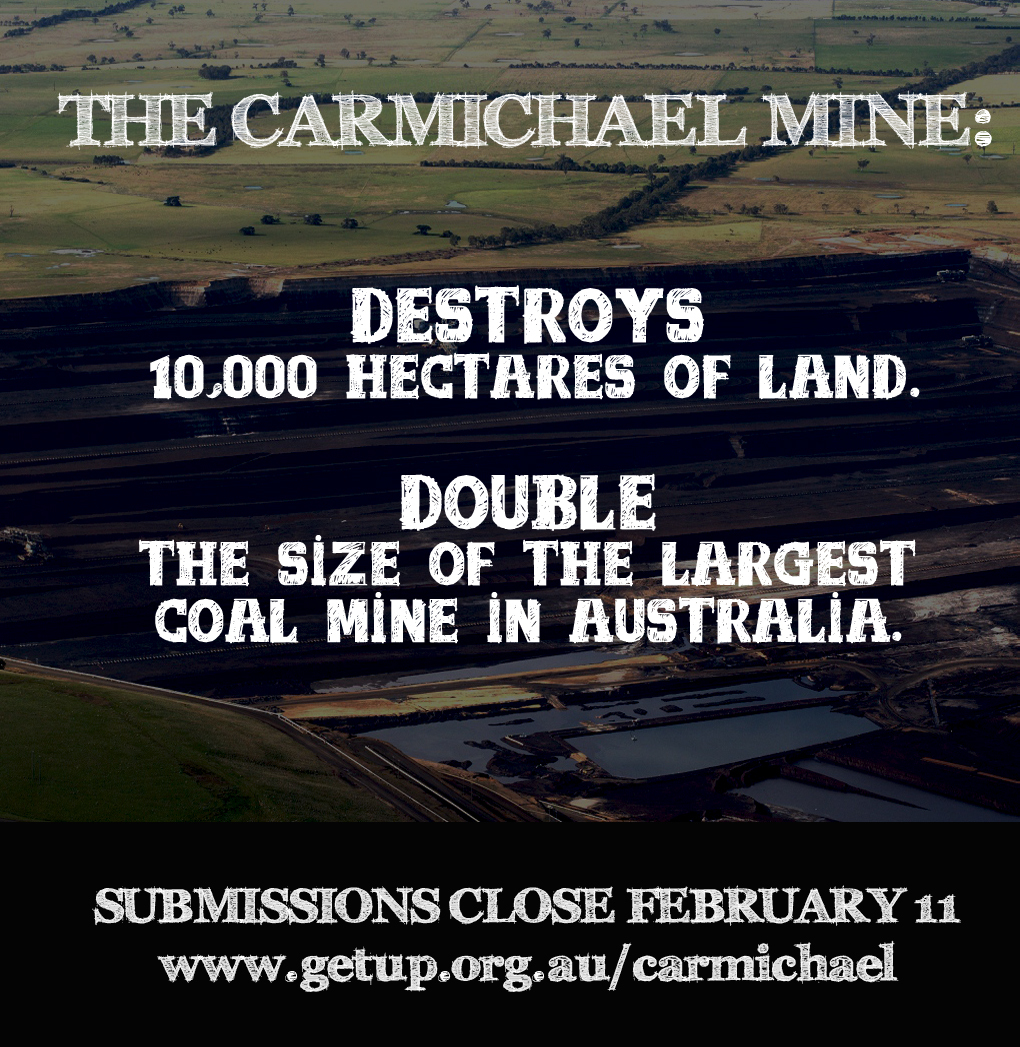 It's a monstrosity. It's two times larger than the largest coal mine in Australia and would lead to massive greenhouse emissions over the next 90 years. It flies in the face of our commitment to limit global warming and protect the Great Barrier Reef. And we've only got 5 days left to let the government know it must be stopped.
At every level the Carmichael coal mine is a bad idea. India's Adani Enterprises wants to dig a 10,000 hectare coal mine, stretching over 40kms swallowing up farms, prime grazing land and the Bygana West Nature Refuge. When burnt for power generation, the coal would produce approximately 128.4 million tonnes of carbon dioxide per year, greater than the 2009 carbon dioxide emissions from fuel combustion in Sweden, Norway and Denmark combined.
If stopped, it could be a sign that Australian governments are making decisions in the interests of the people, not the mining magnates. As a nation we can't claim to be serious about stopping climate change and saving our reef while also allowing the creation of the largest dirty coal mine we've ever seen – a mine that will see more damage to the Great Barrier Reef from dredging and the dumping of dredge spoils in the marine park. We can stop this, but it will take a movement to stand up to Big Mining and the vested interests of the Queensland government.
New research by The Australia Institute shows how 'slowing down the pace of coal exports would actually result in enormous benefits to the Australian economy. It would allow our other key export industries – including manufacturing, tourism, education and agriculture – to expand, employing more people and paying more tax.'1
The status quo has long been that big miners get their own way. But we can change that. Let's inundate the government assessment process for the Carmichael mine, pointing out the projects many flaws and showing the government the community knows this project is not in their interest:
www.getup.org.au/campaigns/mining/coal/the-carmichael-mine-strosity
If 100 years from now the Carmichael mega coal mine is still churning out emissions, shipping through our destroyed Reef – that's on us. We'll be the ones who stood by and let it happen, despite what we knew about climate projections, the unsustainability of fossil fuels and how fragile our Reef was. Luckily, our movement isn't going to let that happen.
Thanks,
the GetUP team.
[1] Richard Dennis. Limiting Australia's ballooning coal exports is good for the economy. The Conversation, February, 2013.
7th February 2013