Latest campaign: Guns in NSW Parks
Posted by

Kelsey
15th February 2013
Would you be comfortable bushwalking or camping in NSW's beloved National Parks knowing that amateur hunters were out there with guns? Would you bring the kids?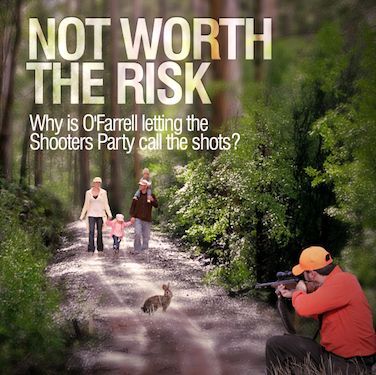 Click here to share the campaign on Facebook.
Click here to see the full size ad image
Premier Barry O'Farrell acted against good advice, broke his pre-election promise that there will never be hunting in National Parks and made a dangerous deal with the Shooters Party. We can't let him get away with trading our safety for political gain.
Chip in now to run this powerful ad in Sunday's Sun Herald and demand that O'Farrell make good on his promise.
http://www.getup.org.au/not-worth-the-risk
New Zealand knows all too well how hunting and recreation is a recipe for disaster. In late 2010, a 25-year-old New Zealand school teacher, Rosemary Ives, was shot dead while brushing her teeth at a camp site in a conservation park on the North Island. The amateur hunter responsible mistook her for a deer.[1] Then in 2011, another bushwalker — 23 year old Dougal Fyfe — was shot and killed by his best friend.[2]
Conceding to the Shooters is not only dangerous, it's just plain stupid. The NSW Government's own Draft Risk Assessment Report released in December of 2010 found that the program poses a "high" risk to human life. And the evidence shows that allowing amateur shooting will have no impact on feral animal control.[4]
How do we find ourselves in this ridiculously risky situation? Frankly, our Premier sold out. Our Premier, Barry O'Farrell, sold out by making a dangerous deal with the Shooters and Fishers Party to allow shooting in National Parks so he could sell off our public electricity assets. Now the Shooters and Fishers Party know that the government need them to pass any controversial reform. Who knows what they'll ask for next?
Don't let them get away with it!
http://www.getup.org.au/not-worth-the-risk
Conceding to the Shooters is not only dangerous, it's just plain stupid. We already know that many within the Office of Environment and Heritage answering to the Environment Minister Robyn Parker are fiercely opposed to this program because feral animal control should be left to wildlife and conservation experts, not amateur hunters (some as young as 12!). They also have concerns about waterways in our Parks being poisoned by rotting animal carcasses.
Let's lend our strength to the voices of reason within the government to stop this before lives are lost.
Help run this ad and let Barry O'Farrell know that it's not worth the risk:
http://www.getup.org.au/not-worth-the-risk
Our National Parks should be places where everyone can escape, get close to nature and appreciate its beauty. Let's not let them turn our Parks into a playground for gun-wielding hunters.
Thanks for all that you do,
The GetUp team.
PS – Thanks to the National Parks Association of NSW, the Public Service Association of NSW, WIRES and Wild Walks for their tireless campaigning over the last two years to stop shooting in NSW National Parks.
PPS – Click here to share this campaign on Facebook or click here to share it on Twitter.