Marriage in NSW: This is the year
Posted by

Jess
19th February 2013
Support marriage equality? Sign the petition to make marriage equality real this year in NSW: http://www.getup.org.au/nsw-marriage-equality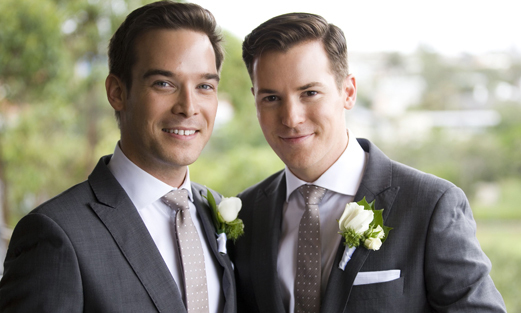 Callum Mathieson (L) and Clinton Bryan (R).
It's hard to believe that in 2013 Australia doesn't recognise the love, partnership and dignity of the union between Clinton and his husband Callum. Clinton sent us a heartfelt email a few days after his wedding to Callum in a touching ceremony, surrounded by family and friends. The GetUp community is all about sharing and Clinton has generously shared the experience of marrying the man he loves with us all – read his story below.
This year we have a chance to change the law in NSW so that Callum, Clinton and every other couple who want their relationship to be legally recognised can do so. A group of NSW MPs from across the political spectrum are organising to make marriage equality a reality.
Can you sign the petition to members of NSW Parliament to support the push for marriage equality in NSW?
http://www.getup.org.au/nsw-marriage-equality
We know that other states are considering passing their own marriage equality legislation. A successful marriage equality bill in NSW could be enough to tip them over the edge and put pressure on the Federal Government as well. It won't be easy, but this could be our best chance to make real progress towards marriage equality.
Can you add you name to the petition to members of NSW Parliament for marriage equality legislation this year?
http://www.getup.org.au/nsw-marriage-equality
Thanks for sharing the love,
The GetUp team.
—–
Hi there,

My name is Clinton, and I am 29 years old. On November the 16th 2012 I got married to Callum Mathieson at Dunbar House in Watsons Bay Sydney. While we know that technically we did not get "married" nor will we be "husbands", this day was treated as such ever since we got engaged.

When Callum proposed we originally were going to wait until it became legal. There is just something special about exchanging vows that has more impact if they were legally recognised. Though the thought of waiting for 5, 10 or even 15 years for legalities to catch up with social opinion was just not an option. The thought of someone else deciding when we were ready for this next chapter in our lives didn't seem to sit well with us. Why should politics dictate when we feel that we want to get married, or at all?

So we decided to do it anyway. And on the 16th of November Callum and I walked down the aisle accompanied by our mothers and witnessed by our fathers.

Our wedding is an example of what a modern day wedding looks like. It's not a man and a woman, a man and a man or even a woman and a woman. But two people, standing in front of the most important people in their lives expressing their love and devotion to each other. Witnessed by family and friends and recognised by law.

We are so very lucky to say that we had our mothers walking us down the aisle, our fathers signing the witness certificate. My brother was my best man, our sisters did a reading in the ceremony and our nieces and nephews made up the wedding party as our page boys and flower girls.

To our friends and family this day was not a wedding between two men or even a civil ceremony as it is most commonly called. But simply a Wedding.

Kindest regards,

Clinton Bryan
—–
Don't forget to sign the petition to members of NSW Parliament for marriage equality in NSW: http://www.getup.org.au/nsw-marriage-equality